COPENHAGEN CONFERENCE 2021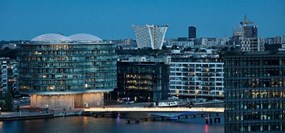 Participate in SIPA's conference in Copenhagen for members and select guests. The conference is a hy-brid, i.e. you can participate in person or virtually.
We will convene in the new and interesting HOTEL OTTILIA in Carlsberg Byen. The area is the most inter-esting urban development area in Copenhagen, located on the premises of the old Carlsberg brewery in Copenhagen. The area is a mix of old factory buildings and newly constructed ones. HOTEL OTTILIA is lo-cated in the old mineral water factory neighbouring Bohr's Tower, a new 100m high rise, one of Copenha-gen's highest apartment buildings.
The conference
The SIPA conference focuses on the state of the world and the Nordics from a property perspective – after COVID-19. The Corona pandemic has disrupted the world. What does this mean for the outlook of the world economy and the property sector? Also, Corona has created a new and strengthened interest in the Nordic property markets. What does this mean to each of the Nordic countries?
Furthermore, we will dive into specific property investors' views on the Nordics as well as their actual strategies. We will look at both a truly Nordic investor and a global investor looking into the Nordics from the outside.
Networking
For those participating in person, there will plenty of opportunities to network. The day concludes with an excellent, but relaxed dinner at HOTEL OTTILIA's renowned restaurant TRAMONTO Rooftop, overlooking Carlsberg Byen and most of Copenhagen.